Growing Indoors vs Outdoors
Growing Indoors vs Outdoors

There are many considerations to take into account when deciding whether to grow your plant indoors or outdoors.
As someone who lives in the suburbs of a city, with many close neighbors and far away from any wilderness, I only grow weed indoors.
Most growers have an idea about whether they want to grow indoors or outside, but check this list of pros and cons to help if you're still not sure.
Pros and Cons – Growing plants indoors vs. outdoors
Indoors
You have more control over everything in an indoor growing environment, which means that indoor growers can consistently produce dank buds, but you also have more responsibility. If you don't provide everything your plants need, they will die.
What indoor space works best?
You can grow plants most anywhere with easy access to water and fresh air…
a spare room
a closet
garage
grow box
grow tent ← Best choice*
extra bathroom
even the inside of a computer case!
Grow tents are the best grow space for new growers. You simply need to decide how big a grow tent you should get for your space, and you've already given your plant so much that will improve their environment for better growth. Grow tents are cheap, effective, and will save you a lot of trouble. A quality grow tent is light proof, has reflective walls, contains built-in options to vent heat, a place to hang your lights, and waterproof floors for spills (so you never end up with water on your floor). A nice grow tent looks doesn't always look like a grow tent to someone who doesn't know what one looks like (I've had someone ask me if my grow tent was where I hung my clothes), but it contains many features that will help your cannabis plant thrive while reducing your work. It is often less expensive to get a quality grow tent than to try to make an effective grow space or grow box on your own.
When thinking about where to grow indoors, you should also consider the temperature of your grow space (and remember your temps will likely rise once you have your grow lights running!).
Young growing cannabi plants grow fastest when temps a bit warmer, in the 70-85°F (20-30°C) range.

When plants are a bit older, in the budding/flowering stage, it's best to keep temps slightly cooler, around 65-80°F (18-26°C) to produce buds with the best color, trichome production and smell.
Because temps are so important, it's best to be able to have some amount of control over the temperature of your grow area. When growing indoors, your grow lights will give off heat. The more powerful your lights, generally the more heat they give off.
If you're growing just a few plants in a grow tent or box, usually you can install a fan to pull hot air away from the hot lights and out a window to keep things cool enough.
Outdoors
Growing plants outdoors is cheaper to get started outdoors since you probably don't have to get grow lights or create an indoor grow area, though you do have to worry about privacy/stealth, possible pollination, people stealing your plants, bugs, deer and other unexpected outdoor visitors.
If you pick the right strain and live in a good environment, it will likely be cheaper to grow outdoors, since you don't have to provide as much for your plants. The sun and mother nature will do a lot of the work for you.
And when you're growing outdoors, you can produce plants like this…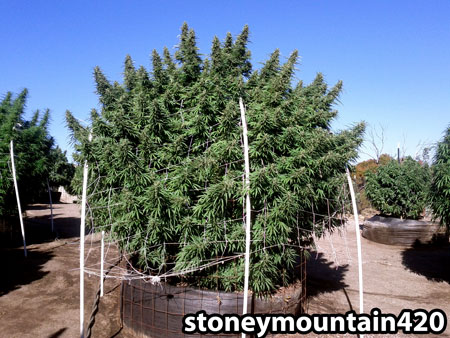 Of course when you're growing outside, it's not always possible to control the environment perfectly. If it's dry, you will need to water your plants. If it's too rainy, you need to protect your plants from getting overwatered.
When it comes to temperatures, a good rule of thumb about cannabis plants is if it's too hot for you, it's probably too hot for your plants. And just like humans,  plants can die if exposed to freezing temps.
So if you know it's going to be extremely hot or cold where you live, you may need to take extra steps to protect your plants from the elements, like setting up a small greenhouse.